Casa Chiàppara
The kitchen and dining table
Casa Chiàppara
vakantiewoning op het platteland van Balestrate

Casa Chiàppara is a detached self-catering holiday home with an Intex swimming pool in the countryside of Balestrate, only a 5-minute drive from the center and the large sandy beach of this Sicilian coastal town.
In the air-conditioned living room you will find a sofa and TV, a dining room table and an open kitchen.
The hallway gives you access to the four bedrooms and the first bathroom. Two bedrooms have double beds, the third bedroom has a single bed and the fourth bedroom has a bunk bed. The first bathroom has a shower and a toilet.
Besides a porch, the holiday home has a terrace, a roof terrace and plenty of outdoor space. Casa Chiàppara also has an outdoor kitchen with wood burning oven, so you can make your own pizzas! Around the corner you'll find the second bathroom with shower and toilet. At the back of the holiday home there is some playground equipment near a large mulberry tree. The fruit of this tree is called "gelsi" and it's often used to make delicious ice-cream.
The swimming pool can be used from May 1 until the end of September.
There's plenty of parking space for your (rental) car next to the holiday home.
Casa Chiàppara is also ideally located for daytrips by car: within a few minutes you'll be at the highway or on one of the inland roads towards Alcamo or Palermo.
Availability and (provisional) booking request form
You can check the availability of this self-catering holiday home in Balestrate in the tab availability below. You can use the form in the same tab to send us a (provisional) booking request.
Holiday home with:
Air-conditioning
Wi-Fi internet
TV
DVD player
Radio, CD and MP3 player
Washing machine
Deck chairs
Barbecue
Intex swimming pool
Wood burning oven
Private parking space
Travel cot (on request)
Highchair (on request)
Sea and beach:
Airport Palermo:
Airport Trapani: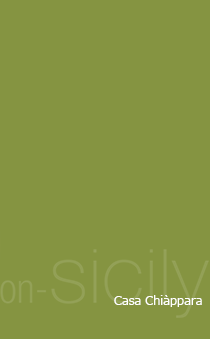 2019
Price per week
March 23
–
April 13
€ 550
April 13
–
May 11
€ 575
May 11
–

May 25

€ 525
May 25
–
June 22
€ 575
June 22
–
July 20
€ 680
July 20
–
August 17
€ 850

August 17

–
August 24
€ 680

August 24

–
September 21
€ 575
September 21
–
October 5
€ 475
October 5
–
October 19
€ 475
October 19
–
November 2
€ 450
All rental prices include a free onsicilycard, the use of gas, water, electricity, Wi-Fi internet, towels and bed linens and the final cleaning of the holiday home
With a minimum 5-day stay, you can choose any amount of days/weeks that you wish to rent. We do not use fixed check-in or check-out days. This allows you to create the perfect holiday to fit your schedule and travel needs!

Legenda:

Booked

Provisional booking

Available
Submit a (provisional) booking request: