Casita DeLuca
The swimming pool in the garden
Casita DeLuca
The swimming pool in the garden
Casita DeLuca
On the terrace in the garden
Casita DeLuca
On the terrace in the garden
Casita DeLuca
The private parking spot in the garden
Casita DeLuca
holiday home with garden in Balestrate

Casita DeLuca is a large detached holiday home with swimming pool and a garden, located in the tranquility of Balestrate's countryside. During the day you can enjoy a glass of Sicilian Nero D'Avola (famous Sicilian red wine) or a Bianco di Alcamo (well-known white wine from the nearby town of Alcamo) in the shade of the porch. In the evening you can see the beautiful colors in the sky above the Golfo di Castellammare.
At the back of the house there's a spacious garden with a large Intex swimming pool (diameter: 4,3 m), a terrace (25 m2) with two wooden tables and matching chairs and a lawn with sun loungers and several olive trees. In the evening the garden is beautifully lit. The private parking space is big enough for two cars.
On the ground floor, the holiday home contains a spacious living area with three sofas and a TV, a large kitchen, and a bathroom with shower. On the first floor you will find three bedrooms (two with a double bed and one with three single beds) and a second bathroom with shower. From the two bedrooms at the front of the house, you have access to the balcony.
All bedrooms and the living room are fitted with air-conditioning (both cool and hot air).
From the large room on the second floor where you'll find the washing machine, you have access to the rooftop terrace, from where you can see the Golfo di Castellammare.
Casita DeLuca is located near the holiday homes Casa Giudeo, Casa Corona and Casa Tannura. Ideal for families and friends who travel together but still prefer to have their own accommodation! See: combinations.
Availability and booking
You can check the availability of this detached holiday home with garden in Balestrate on the availability tab, where you can also submit a (provisional) booking request.
Holiday home with:
air-conditioning
Wi-Fi internet
swimming pool (Intex)
LCD satellite-TV and DVD player
radio, CD and MP3 player
microwave
oven
electric kettle
toaster
Mixer
blender
refrigerator and freezer
washing machine
Nespresso coffee machine
hairdryer
sun loungers and beach towels
barbecue
private parking space
travel cot (on request
highchair (on request)
Sea and sandy beach:
Within a few minutes'
drive
Airport Palermo:
Airport Trapani: 2017
Price per week (up to 4 people)
December 31
–
March 25
€ 575
March 25
–
April 15
€ 650
April 15
–
May 13
€ 875
May 13
–

May 27

€ 700
May 27
–
June 24
€ 745
June 24
–
July 22
€ 940
July 22
–
August 19
€ 995

August 19

–
August 26
€ 940

August 26

–
September 23
€ 745
September 23
–
October 7
€ 630
October 7
–
October 21
€ 745
October 21
–
December 16
€ 620
December 16
–
December 30
€ 720
All rental prices include a free onsicilycard, the use of gas, water, electricity, Wi-Fi internet, towels and bed linens, beach towels, travel cot, highchair and the final cleaning of the holiday home.
The rental prices for this holiday home are for up to four people. For every additional person (of 4 years or older), 75 Euros will be added to the rental price per week.
With a minimum 5-day stay, you can choose any amount of days/weeks that you wish to rent. We do not use fixed check-in or check-out days. This allows you to create the perfect holiday to fit your schedule and travel needs!

I am quite critical about a vacation stay, but I can assure you that this is good.Bonnie & Chris – Roos & Nora
The reality was even better than the pictures – the holiday home was perfect for our familyFamiglia Antonissen
This holiday has really exceeded all our expectations and is definitely in our top 5.Famiglia Erven
We look back on a lovely week in which, also thanks to Laura and Martijn, we were able to really enjoy the real Italy.Robbie & Julian
Click here to read Casita DeLuca's guestbook.
Legend:
Booked
Provisional booking

Available
Submit a (provisional) booking request:
Guestbook Casita DeLuca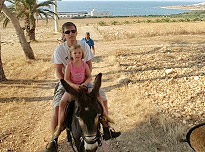 Geert, Kristien, Esther en Olivia
"The reception at the airport and transfer to Balestrate was very well arranged, and during our stay we could always count on you. Thanks for arranging the trip with the donkeys! The girls loved it! And we did too 😉
Casita Deluca is highly recommended: spacious and everything you can imagine is available.
We have fully enjoyed our stay in Sicily and definitely recommend you to friends and family.
Grazie mille!"
---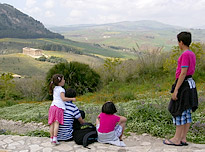 Famiglia Van den Brink
"Renting a holiday homes from Laura and Martijn is almost a non-Italian experience, even though we really were in Sicily in late April / early May 2011! Never before had we rented a house so fully equipped in Italy / Sicily and where the service perfect. No mishmash of plates, pans and cutlery. No trickle of cold water for a shower. No long queue at the car rental agency (because we rented car + transfer service through them, really saves time!). None of this, on the contrary. Add to that the beautiful garden (morning sun) including herb garden and lemon tree, roof terrace (evening sun) and all the extras like: DVDs, games, beach stuff for the kids, magazines and travel guide to Sicily, novels, Wi-Fi, etc. and then you know for sure that you made a very good choice with Casita DeLuca.
The house is situated in a Contrada with a few houses, very quiet (though of course we could hear the Italians who spend their weekends there, sing on May 1 :-)) and it is very suitable for our children, who loved playing in the garden. We really liked the area: You are within driving distance of beautiful cities such as Palermo, Marsala, Trapani and wonderful places like Monreale, Erice and Segesta as well as the beach and nice little towns.
Tip: regional museum in Terrasini with a lot of old Sicilian carts.
Ciao!
Famiglia Van den Brink"
---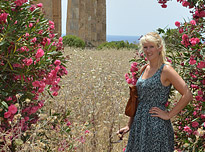 Chris & Rianne
"Our first time in Sicily was great. We arrived in a beautiful large house (too big for the two of us, but we deserved it!! ;)) and a delightful garden with banana trees, lemon tree and fresh herbs. The house is situated in a quiet area with a few Sicilian families and we were surprised by a bag of fresh fruit and vegetables from the neighbor, freshly picked from his garden.
We stayed one week in Sicily and we mainly came to do road bike trips. Martijn was a great help and we have done some really nice rides. We enjoyed the beautiful beach and beautiful history on the island. We love to travel and have seen quite a few but Sicily was something special, this is really a place to come back to. Even if only for a week … we enjoyed it immensely!
Greetings
Chris Petersen and Rianne"
---
Famiglia Van den Brink
"It surely means something, when you rent exactly the same house with beautiful garden for the second time. That means that there's still a lot left to do and see in the Balestrate area, even after having stayed there for two weeks before. This time we visited Sciacca and Selinunte with a special stop at Gibellina Nuova; we walked in Lo Zingaro and we enjoyed the beach at San Vito Lo Capo. Okay, we went back to Palermo, but this time we ended our day with a dinner in Mondello. And now we still think that there is still more left for another time!
It also means that a few hours on the beach around the corner and doing trips in the area is an excellent combination! It also means that other Italian houses cannot compete with the hospitality of Laura and Martijn and in the kitchen even a blender was added, perfect for lots of tasty smoothies! The onsicilycard made everything more enjoyable, with free cookies at the bakery (and discounted bread, buy the nero version!) and too many sweets at Bar del Golfo!
In short, civediamo we think (especially now that it's quite cold in the Netherlands ….)
Fam. VdBrink"
---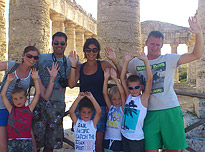 Famiglie Schenk & Pietersz
"Dear Laura and Martijn, in August 2012 we stayed for two weeks at Casita DeLuca. Our expectations were high, thanks to all the positive comments in the guestbook, the booking process and the inviting website. It almost seemed too good to be true. Fortunately, it wasn't: The transfer, the reception, the car, the beautiful house and beautiful garden. The house was clean, complete and fully equipped. Breakfast on the veranda, barbecue in the garden and in the evening relaxing on the roof terrace.
The house is situated in a quiet street with only Sicilian neighbors. Soon our children played with the children in the neighborhood and in the evening we occasionally heard Italian singing or music, which made for a beautiful Sicilian atmosphere. We could always count on Laura and Martijn, who live next to Casita DeLuca. They were on a modest distance but when we needed them, they were immediately ready to help us.
Sicily is for us: great food, beautiful beaches with Zingaro being a highlight , lovely people, ice-cream, buns, having a drink in Erice, the bustle of Palermo, fresh herbs from the garden, the high waves in Castellemmare del Golfo, beautiful scenery, heatwave, Disney Movies for the kids, lounging on the sunbeds in the garden, Segesta, Corleone, tasty sandwiches in Scopello, San Vito lo Capo, lasagna at La Piazzeta, ceramics painting with Beatrice, the long warm evenings on the roof terrace.
Overall, we had a memorable holiday and we will definitely come back again.
Laura and Martin, thanks for everything and hope to see you again!
Schenk family and family Pietersz"
---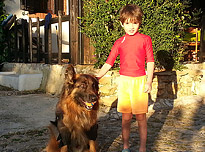 Famiglia verhaegen
"We want to thank you for the carefree week in this beautiful house, equipped with all modern conveniences. On less warm evenings we could use the extra heaters with which heating such a large space was no problem.
There were plenty of towels, the house was well cleaned upon arrival. And with our 5 year old son we couldn't have wished for a better stay.
The garden is beautiful, and as a base, the location of the house is ideal. You're only few minutes from the exit of the motorway and still, when you're at this beautiful house, it's complete peace and tranquility. We also want say thanks for the fact that, despite our very late flight, both Laura and Martijn were waiting for us at Jumbo to welcome us. Also a compliment for the driver who drove us from and to the airport.
It was a really special holiday for us, thank you …. Of all four of us.!!!!
Yves , Ilse and the kids"
---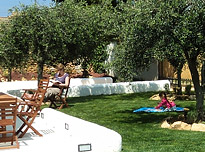 Martin, Birgitta & Silke
"Hi Laura en Martijn, What can we say about our stay at Casita Deluca? A very spacious house, fully furnished and equipped with every luxury, a wonderful setting on a beautiful island. But, the most important thing: Not only do we have nice neighbors at home, even on our holiday we did: Laura and Martin
The relaxed and nice neighbors who made our holiday complete with many fun evenings, while enjoying the finest wines and food of Sicily! That's why you are on a holiday, relax in a lovely house with beautiful garden and enjoy the presence of nice people. That's why we think back with nostalgia on 2 weeks in Sicily!
And the fact that Silke now also speaks Italian, that Martin even gave drum lessons, that we learned new pasta dishes from Laura, and the caffè and homemade limoncellos that Laura gave us, were the icing on the cake!
Dear Laura and Martijn, again many thanks for our wonderful vacation we had as your temporary neighbors. We will do our best to come back again!
Ciao, Martin, Birgitta and Silke"
---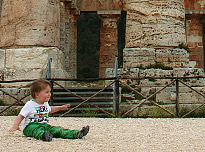 Robert, Lenneke & Luuk
"
In May we spent 12 days in Casita DeLuca. What a lovely house with spacious rooms, a lovely veranda and a panoramic view from the roof! When we booked, we had doubts whether we should stay in such a large villa with just the three of us. But Laura and Martin really have listened to our wishes: lots of space for our Luuk to play. Well, he had lots of it.
What a beautiful garden, maintained with love. In the morning we had a nice breakfast in the shade of the olive trees. And in afternoon on the lounger to finally read a book while our little boy was sleeping. Too bad the evening was still too cold to sit outside. But inside it's very cozy with all the lights and candles.
Almost every day we made a trip. A nice area with sea, mountains, nature and culture. We have seen Palermo, Monreale and we took the cable car to Erice. Unfortunately, on the way to the temple of Segesta we had some car trouble. 1 phone call to Laura, and fifteen minutes later help had arrived. What a service!
Furthermore, we enjoyed the good food. We cooked at home with fresh herbs from the garden, but we also went to restaurants on the onsicilycard. Highly recommended was the Sicilian cook who was cooking for us at Casita DeLuca (and even did the dishes!). Pure indulgence. And I shouldn't forget to mention that we have the most delicious cake ever, which Laura had arranged for us because Robert celebrated his birthday in Sicily.
A road trip to Corleone made our stay completely.
We can look back on a great holiday! Saluti!
Robert, Lenneke e Luuk
Don't hesitate to let Laura and Martijn organize the car rental. We have never arrived at our destination this quickly!
"
---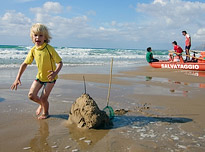 Bert, Roos, Lieve e Floris
"We long for Sicily. We want to snorkel in the sea, made of blue curaçao. We want to play with the waves and look at the Italian lifeguard. We want to sail again along nature reserve Lo Zingaro with the tough Sicilian sailors. We want to re-take the cable car and "fly" to the medieval town of Erice. We want to once again enjoy the delicious peaches, watermelons, olive bread, fresh herbs from our garden, fresh pasta from the bakery and of course ice cream. We want to explain one more time that so many temples are really special. We are already looking forward to breakfast on the veranda. We want to have lunch and play in the beautiful garden. We can't wait to enjoy our dinner on the rooftop terrace, while we watch the sun set into the sea. We need to finish our game of Stratego, which awaits us among the other board games. We want to be pampered one more time by Laura and Martijn.
That's why we just have to come back another time.
See you in Sicily!
Bert, Roos, Lieve and Floris"
---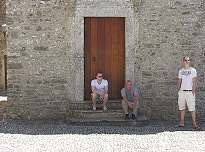 Wouter, Roderick, Marte, Michel, Hans & Trude
"Dear Laura and Martijn, Thank you for your unsurpassed hospitality and almost perfect home, contributions to an unforgettable holiday on an unforgettable island.
Wouter, Roderick, Marte, Michel, Hans en Trude"
---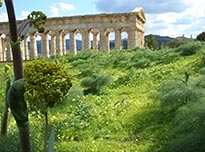 Famiglia Cuperus
"When we booked the flight to Trapani, we still had to find a holiday home in Sicily, so we started searching the internet. After having seen many homes (most were rejected because they were too small), we arrived at on-Sicily.com and found the phone number. We chose Casita DeLuca and after several phone calls and e-mails we booked ourselves a holiday home.
Arriving at the Casita we were received by Laura and Martijn with fresh coffee and a delicious coffee roll. Our (first) experience in Italy was an excellent one, the temperatures could have been a little bit higher, but what do you expect in early March! Martijn's excellent tips about restaurants, attractions and other useful things to know, have certainly contributed to a lovely holiday, but what surprised us was the beautiful nature. The archeological sites are fascinating, and the Sicilian cuisine was also a wonderful part of the holiday, especially in restaurant La Batia in Alcamo. In short, Sicily is worth another visit!"
---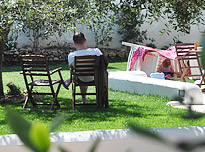 Bonnie, Chris, Roos & Nora
"There is nothing more pleasant to know someone beforehand, who already put a bottle of white wine in the fridge after (incidentally 2hrs and 15min) a flight with two small children. The transfer from the airport is really a must. It is true that others have to wait for hours at the airport. Laura and Martijn had booked a car for us and all paperwork was already prepared. Good service and a good start to our week's holiday.
Everything is well coordinated, the introduction in the house is detailed, but short. You just want one thing, relax and recharge. Laura and Martin understand that. The house was in one word fantastic. It has everything you need. Beach toys, beach towels, towels and everything matched (orange / green). Very creative. Every morning we drove to the bakery with the kids to get fresh bread and strawberries from the greengrocer. We had breakfast on the terrace in the garden, the children played in the grass, and we read a book.
The house is located near Balestrate, a small village with a nice square. From Balstrate you can easily drive to beautiful beaches and villages. A trip to Palermo is a 45-minute drive. Very fun to do. A nice mix, the bustle of the city and the peace and quiet of the sea. There are many cultural places of interest in the area, like the beautiful temple in Segesta. In short, everything was fine for a week or more.
We have also tasted Martijn's delicious wine collection of which we loved the red wine. Delicious! Of course you immediately want to know everything about this wine and how it can be ordered.
What I really appreciated, was the possibility to call in case of an emergency. My Italian is limited to the menu in a restaurant, so as you might understand, this can be useful. I am normally quite critical about a vacation stay, but I can assure you that this is good. It's a good idea to call before you book: you'll realize right away that you're dealing with someone who understands what you are looking for, convenience, quality and reliability.
Laura and Martijn, all the best. We definitely see each other again.
Greetings, Bonnie&Chris – Roos&Nora Breda"
---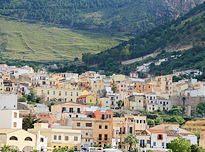 Vina & Jo
"We went to Sicily in the spring and stayed in Casita Deluca. We often go to Italy because we're very fond of the country and its culture. This was our first time in Sicily, hosted by a Dutch – Italian couple. Often there's always room for improvement, even though we see everything in perspective and then it becomes a nice little anecdote. But here everything was fine: The land, the people, the beautiful cities we visited, the food.
We made a lot of trips and it was so nice to come "home" in the evening in a peaceful surrounding and to relax with a glass of wine on the terrace or in the garden. Watch the sun set from the roof terrace: simply breathtaking. Laura and Martijn were also our neighbors: discrete but always right there when we needed them. The house was exactly what we wanted: spacious, cozy and comfortable.
I give it a five star-rating.
Vina and Jo *****"
---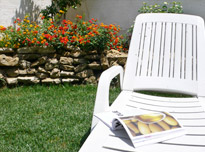 Petra & Mark
"Casita DeLuca 2.0! Two years ago we had spent a nice week at Casita DeLuca. This year we decided to go back to Sicily, so it didn't take us a long time to decide which holiday home we wanted to book… So we sent an email to Laura and arranged the booking immediately!
However, we didn't re-visit the website before leaving, so we didn't know that Casita DeLuca underwent lots of changes and enhancements… What a surprise when we arrived! The freshly whitewashed façade, the planters around the house and on the balcony, but especially the beautiful garden! We spent many hours here while enjoying various delicacies from the local specialty shop Bonta piu! But also the interior was completely changed: Casita DeLuca has become very cozy and also has air-conditioning, Wi-Fi, satellite TV, an audio set, etc. In addition, the kitchen is really well equipped!
It was unfortunate that we could only stay for a week … The last time we forgot to write a guestbook contribution, but this time we starter to type away, right after returning home.
Laura and Martijn, you should be proud of the result of your efforts and we will definitely be back again (but hopefully for a longer period :-)).
Greetings from Maastricht,
Petra en Mark"
---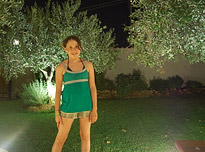 Famiglia Erven
"We've had a fantastic time in Sicily thanks to on-Sicily.com. This holiday has really exceeded all our expectations and is definitely in our top 5. Casita DeLuca is a truly beautiful house in a contrada with another 6 or so houses. Usually Italians come here for the weekend or to celebrate their holidays stay and especially in the weekends you can hear that. However, this is not at all disturbing.
The service provided by Laura and Martijn is great and thanks to their tips and advice you'll be able to enjoy your vacation. This will certainly not be the first and last time that we went to Sicily, two weeks is clearly way too short to see everything on this island.
The beaches are great and only on weekends they can be crowded. However, there is always enough space on the lidos and in the parking lots, where you can park your car for a very reasonable rate. The house is fully equipped. Especially the garden, thanks to the good care of Martijn, is an extremely pleasant area. In the morning and early afternoon you can find a nice shady spot under the lemon and olive trees to read a book.
The service of car rental agency Jumbo Rent-a-Car are also very convenient. We were collected from the airport of Trapani and brought to the center of Balestrate where a big party was going on at that time. The paperwork was already prepared and after the suitcases were loaded into our car we were shown to our holiday home by Laura. They had even provided some groceries. As stated before, a wonderful holiday which certainly will be continued."
---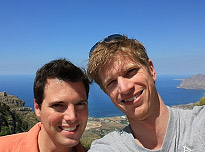 Robbie & Julian
"Robbie had found on-Sicily.com with Google and when visiting the website we were sold and booked the same week. The holiday home, Casita DeLuca is as beautiful in reality as it is on the website…. 'and we fell in love' with Sicily!
When we arrived at Trapani a chauffeur picked us up and brought us to Balestrate, where we were welcomed by Martijn. He then showed us the way to our accommodation, where we were had breakfast with an espresso and a Sicilian bun.
We had a great time with much culture, food, and beach. I will never forget the buns with ice cream I had in Sicily! The restaurants that were recommended by Laura and Martijn (for which they gave us several vouchers) were great! That is really a plus if you're on a holiday in an area you haven't visited before; finding a good restaurant is always a challenge, especially if you don't speak the language.
We look back at a lovely week in which, also thanks to Laura and Martijn, we were able to really enjoy the real Italy. See you soon!"
---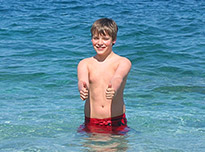 Sandra, Johan & Elias
"We very much enjoyed our short vacation in Balestrate. The house was very spacious and neat and everything we needed was present. We were welcomed and got all the information we needed. And all for a very reasonable price. In the morning we enjoyed the spring sun on the roof terrace where you have a beautiful view of the surroundings. In the evening we made use of the handy stoves on wheels when it wasn't that warm outside
The house is located in a nice street, quiet and very good to explore western Sicily: the temples of Segesta and Selenunte and the ones in Agrigento, the Zingaro nature reserve and villages such as Scopello. We enjoyed to have the beach to ourselves and the bravest among us (early April) even ventured a dip in the sea. Too bad that on some places near the sea there's a lot of litter. The nature and archaeological sites are well maintained and heavenly beautiful also thanks to the exuberant flowering of wild flowers in the spring.
We needed the Sicilian heat and indeed we still look back on a lovely stay in Sicily."
---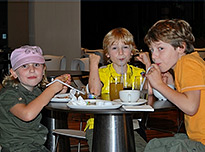 Famiglia Antonissen
"We had heard so many positive stories about Sicily that we decided to go and check it out ourselves in the summer of 2009. After some surfing on the internet we found the beautiful website of on-Sicily. We directly fell in love with Casita DeLuca and we were happy that the holiday home was still available.
The reality was even better than the pictures – the holiday home was perfect for our family and having Martijn, Laura and especially Peter as neighbors was the icing on the cake. Especially the service and the emergency package when our luggage arrived a day later – in one word GREAT.
Sicily and especially the area of Balestrate stole our hearts! That's why we will return in May 2010 to Casita DeLuca, but this time with some of our friends. We can hardly wait….. "
---