Casa nell'antico baglio
The country road to the baglio
Casa nell'antico baglio
The arch in the living room
Casa nell'antico baglio
In the garden of the baglio
The country road to the baglio
The arch in the living room
In the garden of the baglio
Casa nell'antico baglio
holiday home in Balestrate

A real Sicilian experience? That's what you'll get in the unique Casa nell'antico baglio in the coastal town of Balestrate. This holiday home is located in a typical Sicilian building, the baglio. This is a group of houses built in a square shape, with a courtyard and one entrance gate.
You will arrive at the baglio via a small country road. Passing through the gate you enter the courtyard, dominated by flowers and a large tree.
Many years ago, before Casa nell'antico baglio became a house, this part of the baglio was used by a shepherd as a stable for his sheep and a place to make cheese. When the house was renovated, the owners made sure that several characteristic features, like the original arch, were preserved. They added a spiral staircase and made the fireplace by hand with local rock.
From the living room with two sofas you arrive at the kitchen, which has a dining table, a furnace, a refrigerator, and a wood burning pizza oven. The holiday home also has a bathroom with shower and two bedrooms with double beds.
From the living area you have access to the terrace of the holiday home, which overlooks the garden with lots of fruit trees. From here, you can see the nearby town of Alcamo, famous for its white wine, the Bianco di Alcamo. The terrace is partially covered, so you can either find a spot in the sun, or in the shade.
The baglio is located in a quiet area, but is still close to the highway A29 and to several local roads and within only a few minutes's drive of the town center and sandy beaches of Balestrate.
Check availability and book
Click here to check availability and to directly book this holiday home.
In this tab you can view the availability and rental prices of Casa nell'antico baglio and directly book this holiday home. Please visit our search & book page, if you'd like to view the availability and prices of all our apartments, holiday homes and villas.
All rental prices include a free onsicilycard, the use of gas, water, electricity, Wi-Fi internet, beach towels, towels and bed linens and the final cleaning of the holiday home.
With a minimum 4-day stay, you can choose any amount of days/weeks that you wish to rent. We do not use fixed check-in or check-out days. This allows you to create the perfect holiday to fit your schedule and travel needs!
Holiday home with:
air-conditioning
Wi-Fi internet
LCD TV
DVD player
radio, CD and MP3 player
microwave
oven
kettle
mixer
beach towels
fridge/freezer
washing machine
hairdryer
sun loungers
barbecue
beach towels
travel cot (on request)
highchair (on request)
Sea and sandy beach:
Shops & restaurants:
Airport Palermo:
Airport Trapani:
The things we loved the most were your hospitality, helpfulness and the fact that you really feel that you want all of your guests to have a great holiday.Peter, Cara, Sicilia & Juliette
The farmhouse was exactly what we were looking for, so we had a great time.André & Annemarieke
The Baglio is a fantastic location, immersed in green and with a small access road.Elise & Johan
lovely renovated, very quiet, comfortable and all kinds of fruit we could pick from the trees in the garden.Peter & Helen
Click here to read Casa nell'antico baglio's guestbook.
Guestbook Casa nell'antico baglio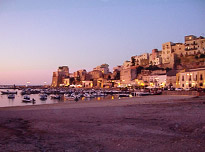 Famiglia Van Bergen

"Dear Laura and Martijn,
We have had a great holiday in Sicily. The things we loved the most were your hospitality, helpfulness and the fact that you really feel that you want all of your guests to have a great holiday. Really unique!
The first week we stayed in the Baglio: a real Sicilian experience. Fresh vegetables from the garden, a genuine pizza (wood burning) oven, wine and a friendly Italian neighbor in a very authentic and spacious house (part of a traditional farmhouse), in the middle of the countryside but not far from the sea.
The second week we went to Castellammare del Golfo and stayed in Casa Geraci: a unique but totally different experience, in an old fisherman's village, surrounded by Italians. The holiday home is on the outskirts of the town center with restaurants, cafes and shops within walking distance.
In those two weeks we have enjoyed plenty of culture, great food and of course the beach! Highlights for us were: visiting Mount Etna, and some of its craters, the historic town of Erice (on the top of a mountain above Trapani), the visit to the historic park Selinunte (with remains of the town Selinous, founded in 500 BC) and our boat trip to Scopello and San Vito Lo Capo. The beautiful rocky coastline with its small beaches was really nice.
Again thanks for the many tips that we have received about authentic restaurants and several places of interest.
Peter, Cara, Sicilia and Juliette (9 and 6 years old)"
---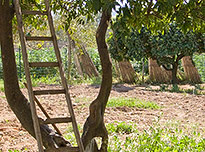 André & Annemarieke
"Dear Laura and Martijn, we had a wonderful holiday in Sicily. The farmhouse was exactly what we were looking for, so we had a great time. Read many books, slept late, ate delicious Italian food and saw Greek culture. What more could you want? What is great shop, Bonta Più.
André and Annemarieke uit Huizen (NH)"
---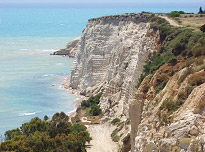 Famiglia Cuperus
"After our holiday in 2008, we fell in love with Sicily, also thanks to the Laura's hospitality and service. A great experience, lovely renovated, very quiet, comfortable and all kinds of fruit we could pick from the trees in the garden.
The area is great, close to Palermo with all its places of interest, Segesta (we liked this the most), and all the many good restaurants (some of which were recommended by Laura).
Agriturismo Tarantola and La Batìa perfectly fitted the picture we already had from Sicily: quiet, kind-hearted, friendly people and places of interest.
No doubt we will return to Sicily for another holiday in one of Laura and Martijn's accommodations.
Peter and Helen
May 2010
---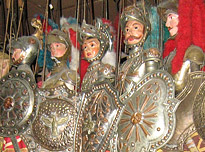 Sjak & Wilma

"hello Laura and Martijn
A quick email to say that we've arrived home safely. And of course to thank you for your good care during our stay in Sicily. We really had a very nice holiday and the cottage was really to our liking! Good luck with your activities and cordial greetings.
Sjak and Wilma"
---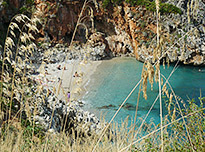 Famiglia Stek
"We really had a fantastic week in Sicily! This was finally a great autumn holiday again, we missed it a lot when we got back to the Netherlands!
We have barbecued in the courtyard. The second day we visited the nature reserve Lo Zingaro and had a swim there, it's a paradise. Also spent a day at the beach of Balestrate. The next day we went to Segesta and Selinunte, with a combi-ticket you can visit both Segesta and Selinunte. Then, a day trip to Monreale, with its beautiful cathedral and Palermo, the archaeologic museum we wanted to visit there has all kinds of excavations from Segesta and Selinunte. The food is also quite good, we went to Agriturisma Tarantula, very good food at an affordable price, with wine tasting. We also had dinner at La Batia, also good and a very nice cozy restaurant.
In Balestrate we went several times to Il Cavallino Bianco and had pizza, which is very nice and good, definitely recommended!
Everything was very well organized, the transfer to and from the airport, all perfect!
The house, casa nell'antico Baglio, was super nice! The garden with citrus trees! Renting a car is a must, you really need a car if you want to visit something. Laura and Martijn help you with anything when necessary and that is very nice! We stayed at the baglio in the period in which the olives were harvested and we helped harvesting olives with a neighbor, which was great fun. What we also noticed, is that the people are really quite friendly."
---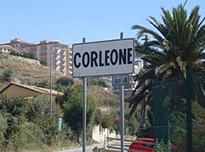 Elise & Johan
"This year we've been to Sicily for the first time and it was a fantastic experience! When we found on-Sicily.com, we fell in love with Casa nell'antico Baglio.
The Baglio is a fantastic location, immersed in green and with a small access road. The baglio has one entrance gate and a spacious courtyard. The house is nice: it has a beautiful fireplace, a kitchen and a spiral staircase to the bedrooms. On the terrace we've enjoyed the sunshine and read many books.
We made a couple of day trips, and visited Erice, where we had a great view and saw several islands.
We were particularly surprised by the nice welcome we had in Balestrate. Laura and Martijn gave us a lot of information about the region and we got a clear map of the town and indications to good restaurants.
We enjoyed our holiday a lot and will definitely return to this special location!
Greetings, Elise and Johan"
---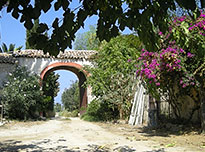 Dave & Wijnanda

"Dear Laura and Martijn,
We have had a really pleasant and wonderful holiday in Sicily. We stayed for two weeks in Casa nell'antico baglio and it was wonderful. We really fell in love with the baglio. The holiday home is located just outside the town of Balestrate and we thought it was a lot bigger in real life than what we imagined by seeing the pictures on the website. Casa nell'antico baglio is spacious, clean and cozy and has a large terrace with both a sun and a shadow area, surrounded by olive and lemon trees.
From our neighbor, we received fresh vegetables from his garden and
even though we were only in two, we received vegetables for ten persons. What a sweet man!
On arrival we received (beside the delicious Sicilian sandwiches in your home) lots of information about restaurants, excursions and a map of Balestrate. We have used them many many times. With the map, supermarkets and bakeries and stores are easy to find and that saved so much time!
We made a lot of trips including to Erice (small village on a mountain with a beautiful view), we saw the salt museum and had a wine tasting in Marsala.
The tips about the restaurants (and the discount vouchers) were great. On one evening we went to Palermo with you and another Dutch couple where, after a drink on a terrace somewhere in the great city, we dined together in "Lubiè". A real Sicilian evening with a delicious fish menu, tasty Sicilian wine and funny stories from Laura and Martijn. Thanks again for this evening!
You also took us to a street festival in Castellammare del Golfo and we really had lots of fun.
We can go on for hours talking about Sicily and Laura and Martijn, but you should just book an accommodation, go to Sicily and see everything for yourself!
Laura and Martijn, thanks again for the nice Sicilian evenings, we will not forget them.
Love, Dave and Wijnanda Sterk"