Villa Costardella
On the terrace
Villa Costardella
The swimming pool near the sea
Villa Costardella
Access to the sandy beach
Villa Costardella
The couch in the living room
Villa Costardella
The sandy beach in front of the villas
The swimming pool near the sea
Access to the sandy beach
The couch in the living room
The sandy beach in front of the villas
Villa Costardella
Villa Costardella is one of four identical villas, renovated in May of 2018. The four villas are all located close to the sea and sandy beach. Villa Costardella is located next to Villa Aguglia and close to Villa Capone and Villa Menola, only 25 meters from the sandy beach.
In front of the entrance of the villa you'll find a few chairs, from where you can enjoy the most beautiful sunsets in the evening. When you enter the living room, you'll see the couch on the left and a dining table with six chairs on the right. Above the table is the TV, that can be turned so that you can watch it from the sofa. The TV is equipped with a DVD player and SKY (satellite TV), so you can choose from a wide range of TV channels.
The modern open-plan kitchen is equipped with an oven, a dish washer, a fridge-freezer, a gas stove and a coffee maker.
From the air-conditioned living room you have access to the bathroom with shower and toilet and to the three bedrooms. Two bedrooms have a double bed and the third bedroom has a sofa bed.
From the kitchen you have access to the private terrace with gazebo and comfortable outdoor furniture. There is also an large table, so you can eat outside. On the terrace you'll also find a barbecue, an outdoor shower and several sun loungers. Everything you need for a wonderful holiday by the sea!
Close to the villa you'll find a recreational area with a large sun deck and a communal swimming pool.
You can park your (rental) car in the private parking area at walking distance from the villa.
In this tab you can view the availability and rental prices of Villa Costardella and directly book this villa. Please visit
our search & book page
, if you'd like to view the availability and prices of all our apartments, holiday homes and villas.
All rental prices include a free onsicilycard, the use of gas, water, electricity, Wi-Fi internet, beach towels, swimming pool, towels and and bed linens. The final cleaning fee is 100 Euros and the resort fee is 100 Euros per stay. Click on "book now" to see the rental price including these fees.
With a minimum 4-day stay (*), you can choose any amount of days/weeks that you wish to rent. We do not use fixed check-in or check-out days. This allows you to create the perfect holiday to fit your schedule and travel needs!

(*) From June 17 until August 26 it's a minimum 7-day stay, unless the available rental period between two existing bookings is shorter.
Villa with:
air-conditioning
Wi-Fi internet
communal swimming pool (7.4 x 3.7m)
Satellite TV (SKY)
dish washer
private terrace
coffee maker
sun loungers
private parking space
travel cots (on request)
highchairs (on request)
Sea and beach:
Airport Palermo:
Airport Trapani:
We've had a great holiday!Andy, Anita, Jeroen & Saskia
From the terrace we enjoyed the view of the sea and the beautiful sunsetsFamiglia van den Brink

Click here to read Villa Costardella's guestbook.
Guestbook Villa Costardella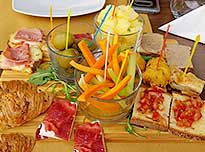 Anita, Andy, Jeroen & Saskia

"Hi Laura & Martijn,
For many years we have been going on holiday together, but we had never been in Sicily before. We were looking for something beautiful near the sea and saw Villa Costardella on your website. When we arrived at the airport, a driver was waiting to take us to Balestrate. You were there to give us the rental car. Ten minutes later we followed you to the villa. What a service! When we got there, we saw that the villa is indeed very close to the sea. After you showed us the villa, we got a map of the town with the location of the various restaurants and bars. We have made good use of this: delicious meals every day. We especially liked the pub on the cozy square. You had already told us that we would get lost of snacks with our drinks and that was certainly not an exaggeration!
We also went to Palermo for a day trip and visited Erice and Segesta and we loved to relax on the terrace with a glass of wine and a beer.
In short, we had a great holiday!
Kind regards,
Anita & Andy
Jeroen & Saskia"
This guestbook entry has been translated into English. The original entry can be found on the Dutch version of this page.
---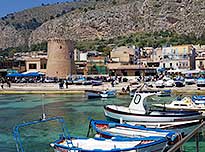 Famiglia Van den Brink

"Dear Laura and Martijn,
Thank you very much for organizing our stay in the villa by the sea. Everything was well organized. The villa was ideal for our family and from the terrace we enjoyed the sea view and the beautiful sunsets.
See you in Sicily,
K. van den Brink"
This guestbook entry has been translated into English. The original entry can be found on the Dutch version of this page.