Appartamento Fasolaro
The sun loungers on the terrace
Appartamento Fasolaro
Sun loungers on the terrace
Appartamento Fasolaro
apartment with sea view in Balestrate

Appartamento Fasolaro is a recently renovated apartment on the third floor of an apartment building with elevator. The apartment is fitted with Wi-Fi internet connection and situated within walking distance of Balestrate's town center and its sandy beach. From the spacious terrace you have a stunning sea view!
The apartment with sea view has one bedroom with a double bed, a bathroom with shower, toilet and bidet, a living room with dining table and a comfortable sofa (bed) and a kitchen. Both the living room and the bedroom of Appartamento Fasolaro are air-conditioned.
On the spacious terrace with sun loungers and a barbecue you can enjoy the stunning view and the Sicilian sun. The terrace is partly covered. Here you'll find an outdoor table and chairs.
Thanks to the convenient location of the apartment, the supermarkets, restaurants and bars in Balestrate can be easily reached on foot. The best bar in town, Bar Caffè del Golfo, is located within a 2 minute walk from the apartment complex. Bar Caffè del Golfo is a participant of the onsicilycard and offers our guests a 15% discount.
Appartamento Fasolaro and Appartamento Mitilo are located next to each other. Ideal for couples traveling together, who would still like to have their own accommodation. See: combinations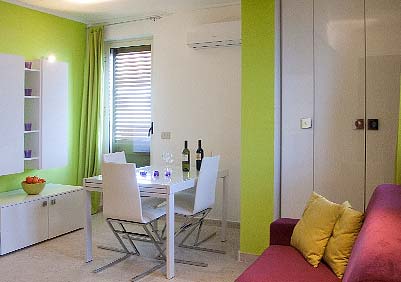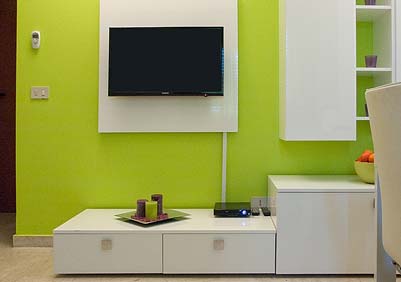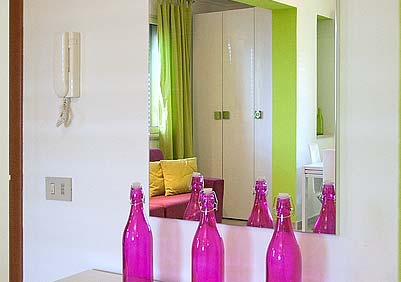 Apartment with:
air-conditioning
Wi-Fi internet
LCD satellite-TV (free-to-air)
DVD player
Radio, CD and MP3 player
microwave
oven
electric kettle
refrigerator and freezer
communal washing machine
hairdryer
sun loungers
barbecue
beach towels
travel cot (on request)
highchair (on request)
Sea:
Sandy beach:
Shops and restaurants:
Airport Palermo:
Airport Trapani: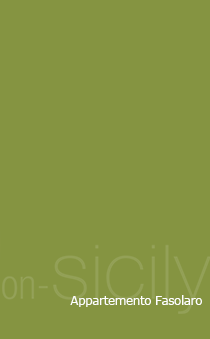 NB At the moment, this apartment can't be booked for 2019. As soon as this accommodation can be booked, we will update this page.
2018
Price per week
December 30
–
March 24
€ 400
March 24
–
April 14
€ 500
April 14
–
May 12
€ 575
May 12
–

May 26

€ 590
May 26
–
June 23
€ 605
June 23
–
July 21
€ 675
July 21
–
August 18
€ 800

August 18

–
August 25
€ 790

August 25

–
September 22
€ 560
September 22
–
October 6
€ 500
October 6
–
October 20
€ 455
October 20
–
November 3
€ 450
All rental prices include a free onsicilycard, the use of gas, water, electricity, Wi-Fi internet, towels and bed linens and the final cleaning of the apartment.
With a minimum 5-day stay, you can choose any amount of days/weeks that you wish to rent. We do not use fixed check-in or check-out days. This allows you to create the perfect holiday to fit your schedule and travel needs!

In short, we had a great holiday, thanks to the good tips from Laura and Martijn!Klaas & Marianne
The sunsets from the terrace of the appartamento were breathtaking.Lianne & Gertjan
Click here to read Appartamento Fasolaro's guestbook.
Guestbook Appartamento Fasolaro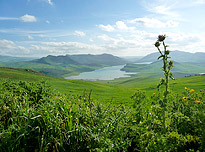 Klaas & Marianne

"Dear Laura and Martijn,
We've had a fantastic week in early April in appartamento Fasolaro. We had access to a huge terrace with a magnificent view. We frequently used the onsicilycard. The baker and greengrocer who accept the card are nice people who also speak English and German.
The nature in the first week of April was really beautiful. While the trees in The Netherlands were still without leaves and not a lot of wild plants were in bloom, Sicily was green and there were lots of flowers. We saw a few species of flowering wild orchids. We also made a fascinating trip to the ghost town of Poggioreale and the beautifully situated lake Lago Garcia. The town of Carini with its castle was also worth the visit.
In short, we had a great holiday, thanks to the good tips from Laura and Martijn!
Klaas and Marianne"
---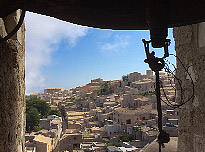 Lianne & Gertjan
"From Thursday, July 31 to Thursday, July 14th 2014, we experienced two great weeks in and near Appartamento Fasolaro.
This beautifully situated apartment in Balestrate offered a holiday in which we could enjoy both the culture and nature in Sicily.
We spent many hours at the nearby Lido's on the beach, lying on two "lettini" and under a necessary "ombrellone". From the second day, the small tourist train – of which we said on the first day "we'll never go for a ride in that thing" – dropped us off at around 06:00 pm the apartment.
The sunsets from the terrace of the appartamento were breathtaking. Also wonderful to see how in the evening the streets of Balestrate fill up with people. Even after midnight young and old are still on the streets chatting and having a good time.
Lots of restaurants to choose from, so we didn't use the apartment's kitchen and barbecue every night. We could have cooked more in the apartment, because there are many delicious products and produce to be found in Sicily.
We had a great time on the night of San Lorenzo at winemaker Alessandro di Camporeale.
That evening, the farm – you can call it a farm – offered Sicilian appetizers, wine and music.
After all the guests from all over Sicily were welcomed "Agrigento, Syracuse, Catania, Taormina, Palermo, Trapani, etc." our friend from Marsala shouted "e Olanda"! We felt welcome …
In the morning we tried to see some of the culture of the island, but we soon noticed that two weeks is just too short. We had to get up early, so we could avoid the hottest part of the day at the place of destination. Being early also meant being at places of interest well before the flow of tourists started. For example, we arrived in the reasonably quiet Erice before 09:00 am, where we could admire this beautiful city and the beautifully restored churches. Then we had lunch in Trapani.
We also arrived at the beautiful temple and beautifully situated theater of Segesta before nineand made pictures before the first tourist bus arrived; at about twelve we were back on the lettini again.
The visit to the magnificent Cathedral of Monreale was unforgettable. We were amazed by the craftsmanship of the makers of the magnificent mosaics with a total area of 6000 m2.
Sicily, a beautiful island, where there's still a lot to visit…
And with such a nice apartment you also know for sure: we'll definitely come back.
Lianne and Gertjan Glismeijer"