Appartamento Cerasuola
The table in the living room
Appartamento Cerasuola
This 120 m2 apartment is the largest of the luxury borgo apartments. From the courtyard you enter the living room with two armchairs, a sofa bed, dining table, open kitchen, satellite TV, a DVD and a CD player. The sofa bed can accommodate up to two people.
The kitchen is equipped with an oven, a furnace, a fridge-freezer, a coffee machine, an electric water boiler and a toaster.
From the living area you have access to the first bedroom with a double bed and air-conditioning and the bathroom with shower, toilet and bidet.
Following the stairs you'll reach the first floor. Here you'll find a spacious bedroom with double bed and air-conditioning. This bedroom has also a sofa bed for two people, so this room could accommodate 4 people in total.
Via the hallway you'll reach the third bedroom with air-conditioning and a double bed. The second bathroom has a hydro massage bath and toilet.
From April 1 until October 31 you can use the large heated (by solar power) swimming pool of the Borgo delle olive.
Apartment with:
Wi-Fi internet in the borgo
air-conditioning
satellite-TV (Sky)
DVD player
radio, CD and MP3 player
coffee maker
sandwich maker
communal washing machine
communal clothes dryer
communal swimming pool
travel cot (on request
highchair (on request)
Sea and sandy beach:
Airport Palermo:
Airport Trapani: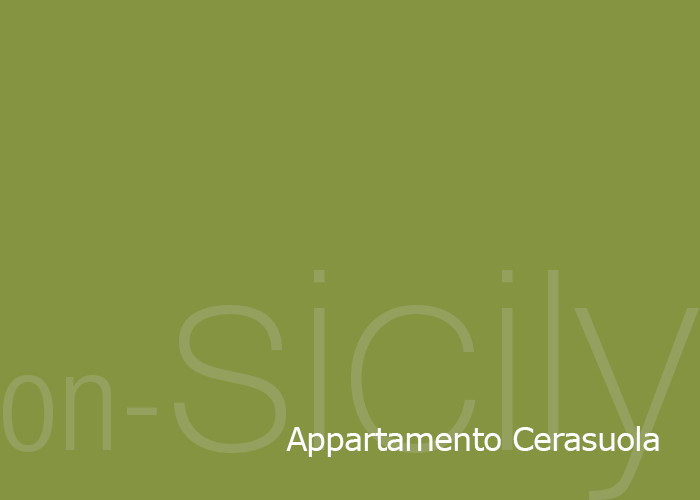 Book now and get an early booking discount for this accommodation. The following early bird prices apply for bookings that we've received before January 1, 2019:
2019
Price per week
December 29
–
March 23
€ 890
March 23
–
March 30
€ 890
March 30
–
April 27
€ 890
April 27
–
June 22
€ 890
June 22
–
July 20
€ 1125
July 20
–
August 17
€ 1365

August 17

–
August 24
€ 1125

August 24

–
September 21
€ 890
September 21
–
December 29
€ 890
All rental prices include the onsicilycard and the use of gas, water, electricity, sun loungers, swimming pool, Wi-Fi internet connection, towels, bed linens and the final cleaning of the apartment, but don't include the use of air-conditioning or heating. Air-conditioning is available at an additional charge of 10 Euros per day. Heating is available at an additional charge of 15 Euros per day.
With a minimum 5-day stay, you can choose any amount of days/weeks that you wish to rent. We do not use fixed check-in or check-out days, which allows you to create the perfect holiday to fit your schedule and travel needs!

Wonderful accommodation. Lovely swimming pool (where the kids spent most of their holiday).Famiglia Hendriks
It was a great success and thanks to the significant contribution of Laura and Martijn we look back at a wonderful holiday.Famiglia Knol
We have enjoyed it tremendously!!Famiglia Vancoillie
We were even more surprised by the beautiful pool, with a temperature of nearly 30 degrees.Famiglia Meurs
Click here to read Appartamento Cerasuola's guestbook.
Guestbook Appartamento Cerasuola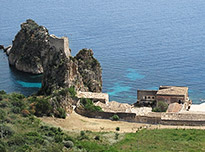 Famiglie Hendriks

"A few months ago we rented the Cerasuola apartment in the Borgo del Olive. Previously we sent some emails and had quick answers to our questions about the location, presence of other children, view from the borgo etc.
When the Ryanair flight schedule was changed (one day earlier than planned from Eindhoven to Trapani and back one day earlier) a phone call to on-sicily.com was enough: within five minutes everything was solved. We found your service and helpfulness exceptional and it was clear that you spend a lot of time making sure everything runs smoothly.
Wonderful accommodation. Lovely swimming pool (where the kids spent most of their holiday). Many other playmates for our children (and thus forus the opportunity to read a few books, relaxing by the pool). And we loved our trips to Erice, San Vito lo Capo and Favignana.
Brioche with ice cream so big that you can feed whole family with it. Delicious Sicilian ricotta and cakes (cannolo and cassata siciliana). And always good coffee.
In short: a wonderful holiday which we would like to repeat someday!"
---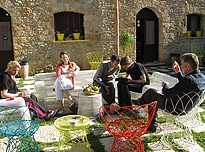 Famiglia Knol

"In the Christmas season of 2010, we traveled to Sicily with our three sons, their partners and our grandchildren. We had booked via Internet apartments in the Borgo del Olive. It was a great success and thanks to the significant contribution of Laura and Martijn we look back at a wonderful holiday.
They hadn't just organized a transfer from the airport of Trapani, but also arranged car rental, the welcome at the Borgo and a Christmas dinner in a restaurant situated in an old convent, where they had also arranged an authentic birthday cake for our son. They gave us valuable tips and their knowledge of the island and the language, made everything complete. You only had to call them and they took the time for you.
If besides this, the apartments are also exceptionally beautiful, the children are safe in a courtyard and the island (sightseeing) also exudes a wonderful atmosphere in the winter, you don't think twice about leaving a guestbook entry!"
---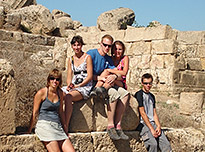 Famiglia vancoillie
"Dear Laura & Martijn,
Our holiday in Sicily was wonderful (August 1 to 12 2010). For the first time we went with the whole family a little further than France, we did a little more than camping. The children (22, 20, 18, 16.) had to choose and it was easy: it should be Sicily. After a few e-mails with Laura and Martijn, regarding both the apartment and two rental cars, we went for the Cerasuola Appartamento in the Borgo dell Olive, in Balestrate.
Beautiful, big house, plenty of room, nice location, nice garden, beautiful swimming pool, all very neat and clean, very friendly people, everything we dreamt of.
Our holiday was not long enough to be able to do and see the things mentioned in the information package that we received from Laura and Martijn via mail and on arrival. We already know that we will return. The fun and tasty restaurants, agriturismo's and workshops were fantastic.
We have enjoyed it tremendously!!
Vele groeten,
Willy, Myriam, Joost en Joke, Josfien, Jolien en Joren."
---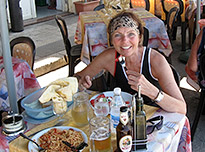 Famiglia Meurs
"Dear Laura and Martijn,
Here's our contribution to your guestbook.
Travel date October 2 – October 9 2010.
For our annual family get-together (with our two daughters and partners) we decided to go to Sicily. It was the first time for our young grandson Maurice, so quite exciting. Our daughter Mabel had chosen the Cerasuola apartment in the Borgo delle Olive in Balestrate.
After our flight with Ryan Air, we were nicely welcomed by Laura and escorted to our destination. When we arrived at the apartment, the borgo turned out to be a beautiful complex. Our apartment had 3 bedrooms and 2 bathrooms. We were even more surprised by the beautiful pool, with a temperature of nearly 30 degrees. Laura showed us everything and gave us tips for our week in Sicily.
We had rented two cars (recommended) and have visited several towns including Cefalu, Erice, Palermo and Scopello. We also visited Mount Etna (Arranged by Laura). A day at the pool was definitely not a punishment… The people at the resort were very friendly.
Furthermore, we can now make real Italian pizzas after a pizza baking workshop organized by Laura and Martijn.
When we landed at Weeze we had to get used to the temperature.
All in all an excellent week, thanks to Laura and Martijn. Because we only saw a small part of the island, we will definitely be back
Kind regards
Geert Meurs"