Appartamento Biancolilla
The dining table in the living room
Appartamento Biancolilla
The living area of luxury apartment Biancolilla with dining table, sofa bed (for two people) and open kitchen, is located on the ground floor and is fitted with satellite TV, a DVD and a CD player.
In the kitchen you'll find an oven, a furnace, a fridge-freezer, a coffee machine, an electric water boiler and a toaster.
From the living room you have access to the first bathroom with shower and toilet.
Following the stairs you'll reach the first floor with two bedrooms and the second bathroom with shower, toilet and bidet. Both bedrooms have a double bed. From the windows you have a view of the courtyard.
From April 1 until October 31 you can use the large heated (by solar power) swimming pool of the Borgo delle olive.
Apartment with:
Wi-Fi internet in the borgo
air-conditioning
satellite-TV (Sky)
DVD player
radio, CD and MP3 player
coffee maker
sandwich maker
communal washing machine
communal clothes dryer
communal swimming pool
travel cot (on request
highchair (on request)
Sea and sandy beach:
Airport Palermo:
Airport Trapani: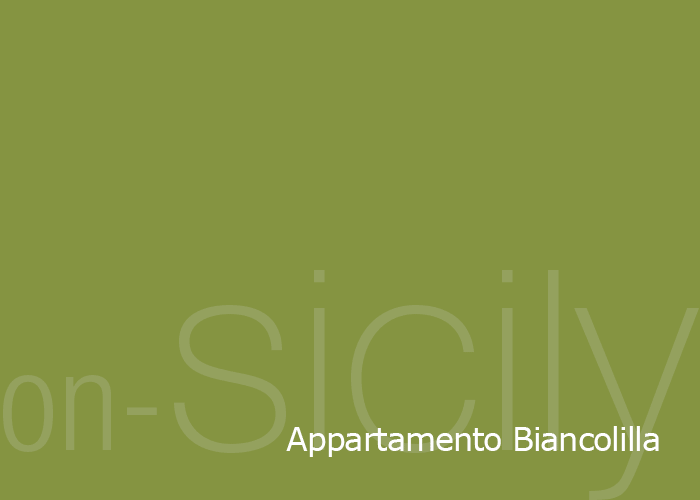 2019
Price per week
December 29
–
March 23
€ 770
March 23
–
March 30
€ 770
March 30
–
April 27
€ 770
April 27
–
June 22
€ 770
June 22
–
July 20
€ 950
July 20
–
August 17
€ 1185

August 17

–
August 24
€ 950

August 24

–
September 21
€ 770
September 21
–
December 29
€ 770
All rental prices include the onsicilycard and the use of gas, water, electricity, sun loungers, swimming pool, Wi-Fi internet connection, towels, bed linens and the final cleaning of the apartment, but don't include the use of air-conditioning or heating. Air-conditioning or heating is available at an additional charge of 10 Euros per day.
With a minimum 5-day stay, you can choose any amount of days/weeks that you wish to rent. We do not use fixed check-in or check-out days, which allows you to create the perfect holiday to fit your schedule and travel needs!

Your personal attention and advice during this week was for us really the icing on the cake!Famiglia Schep
We had a wonderful holiday in the Borgo dello Olive.Famiglia van der Wal
We will definitely recommend it to friends and acquaintances here in the Netherlands.Famiglia van Dinther
It was a big A+! … And we'll spread the word..Irene & Kirstin
Click here to read Appartamento Biancolilla's guestbook.
Guestbook Appartamento Biancolilla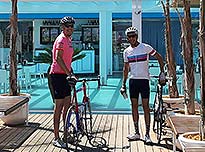 Sanjay & Raj

"My brother and I stayed in the Borgo for a week at the end of August and we had a great time. The Borgo has been beautifully restored and the gardens and pool area were very relaxing. The apartment we stayed in had 2 bedrooms and 2 bathrooms with a well equipped kitchen and enough space for both of us. There are some tables and chairs in the courtyard which are nice to relax and read.
The Borgo is in a great location as it's close to a few different beaches and also lots of sights and places to visit, most just a short/medium drive away. Martjin was also a cycle guide for us on one day and this was a great way to see more of Sicily.
We hired our car and bikes via Martjin and this made the whole process of arriving in Sicily so much easier so I would recommend this. We found that this part of the Island seemed not to be so touristy which we liked as it felt real and not like a commercial tourist resort.
Would definitely recommend staying here and thanks Martjin and Laura for making us feel welcome.
Sanjay and Raj"
---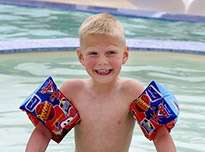 Famiglia Schep

"In May we spent nine days in Sicily. We were guests in the Borgo delle Olive in the Biancolila apartment. We stayed there with our two children Isabel (7) and Jasper (3). At the same time they were more Dutch couples with young children in the Borgo. Thanks to the kids we made friends with everyone else very fast. At the end of the afternoon when everyone had done his own program, we all met near the pool.
For the kids the pizza workshop was the highlight of the week. Soon we will try and make our own pizzas in Holland using the recipe we've got during the workshop.
We want to thank you for the wonderful week and for helping us with the recovery of our suitcase that was lost during our stopover in Rome! Your personal attention and advice during this week was for us really the icing on the cake!
Greetings and hope to see you again,
Arjen, Esther and the children"
---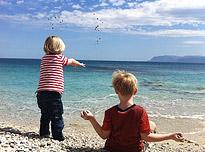 Famiglia Van der Wal
"Barely a week back in the Netherlands and already homesick .. We had a wonderful holiday in the Borgo dello Olive. Beautiful pool, beautiful apartments and a very family friendly courtyard in the Borgo where we could enjoy a glass of wine..
Also Balestrate is a nice authentic place, not overrun by mass tourism. We give this property an A+."
---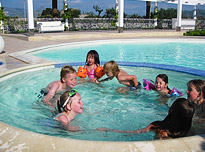 Famiglia Van Dinther
"Buona sera Laura,
Thanks for the wonderful stay in Sicily. It certainly tasted like more. We all thoroughly enjoyed our stay. Thanks to your good service. We will definitely recommend it to friends and acquaintances here in the Netherlands. Thanks again!
Kind regards,
Ellen van Dinther"
---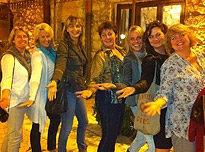 Irene & Kirstin

"Hello Laura and Marijn,
We're back home after four fantastic days in Sicily. Everything went well and our stay at the Borgo delle Olive was great. We've generally followed the program of which everyone loved the day in Palermo, but the highlight was the cooking class with Philippe. We have not filled in the questionnaire. We therefore take this opportunity to thank very much for your contribution to the success of our anniversary weekend.
It was a big A+! … And we'll spread the word..
Fino alla prossima volta,
Irene and Kirstin"
---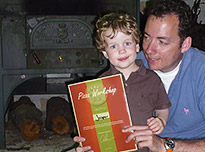 Famiglia De Groot

"Dear Laura and Martijn,
This year we decided to go on a holiday in the school holiday period in May with our children of 3 and 5 years old. Soon we decided on Sicily and through your website and your quick responses we decided to stay in the Borgo delle Olive. When we arrived, we were very impressed with the Borgo. Especially our amazing bedroom suite was great.
For our children, the holiday was absolutely great. Lisa still doesn't understand why people want to live in the Netherlands, because "Sicily is so much better…". Of course the pool was a big hit. The temperatures between 25 and 30 degrees were really nice.
We have made many trips and enjoyed the diversity of the island. Highlights were definitely the nature reserve, visiting Segesta, but also the beach of San Vito lo Capo, everything was great. In addition, we will certainly remember the pizza workshop!
For us it's clear that we will definitely go back again to this beautiful island. We only hope that we can find such a nice location and good organization.
Thank you for everything,
Richard, Daniëlle, Lisa & Jasper"